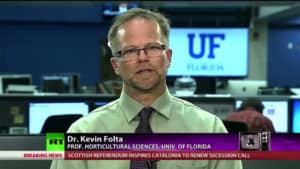 Kevin Folta, Ph.D., professor and chairman of the Horticulture Sciences Department at University of Florida, has provided inaccurate information and engaged in misleading activities in his efforts to promote genetically engineered foods and pesticides.His recent lawsuit against The New York Times is the latest in a long line of examples of Dr. Folta's misleading and deceptive communications.
Sued NYT for reporting his ties to Monsanto; lawsuit dismissed
On Sept. 1, 2017, Dr. Folta filed a lawsuit against The New York Times and Eric Lipton, a three-time Pulitzer Prize winning journalist, claiming they defamed him with a 2015 front-page article that described how Monsanto enlisted academics to oppose the labeling of genetically engineered foods.
Dr. Folta's lawsuit was dismissed on February 27, 2019. A federal judge granted the defendants' motion for final summary judgement.
Lawsuit documents:
Dr. Folta's lawsuit claimed the defendants "misrepresented him as acovertly paid operative of one of the largest and most controversial companies in America, Monsanto," and that they did so in order to "to further their own 'anti GMO' agenda."According to Dr. Folta's lawsuit, Lipton "has almost singlehandedly silenced the scientific community from teaching scientists how to communicate."
The lawsuit claimed that Dr. Folta "never received" an "unrestricted grant" from Monsanto and that he "never received any form of grant, and never received support for him to 'travel around the country and defend genetically modified foods.'"However, documents show that Monsanto provided Dr. Folta with, in their words, "an unrestricted grant in the amount of $25,000 which may be used at your discretion in support of your research and outreach projects."
Emails indicate that Monsanto donated the money in response to a 9-page proposal from Dr. Folta, in which he asked Monsanto for $25,000 to fund his "three tiered solution" to the "biotech communications problem." Proposed activities included traveling each month to a major domestic university to promote GMOs. The moneywas donated to a food bank after the documents became public.
Dr. Folta's lawsuit also claimed (point 67), "Dr. Folta does not discuss industry products of any sort, he teaches broadly about technology." Yet he has vouched for the supposed safety of Monsanto's RoundUp, going so far as to drink the product "to demonstrate harmlessness." He has also said he "will do it again."
In a Sept. 29, 2015 email, Janine Sikes, University of Florida Assistant Vice President of Public Affairs, wrote to a colleague about Lipton's NYT story: "for the record I thought the story was fair."
Quotes from NYT and Eric Lipton's response to Folta's lawsuit, from July 2018motion for final summary judgement:
Mr. Lipton relied on Plaintiff's own email communications, which were provided to him by UF in response to a public records request. While it may be that Plaintiff, a self-described "public" scientist, would rather not have his associations with industry giants like Monsanto examined, accurate reporting on the records documenting those associations cannot form the basis for a defamation lawsuit. (Page 1)
Among other things, (Folta's) UF records documented: (1) Plaintiff's actions in securing a $25,000 "unrestricted grant" from Monsanto—that Plaintiff told Monsanto would not have to be publicly disclosed—to fund talks about GMO science, including the discussion of industry products; (2) Plaintiff's testifying before governmental bodies in favor of pro-GMO policies; (3) Plaintiff's interactions with industry, including numerous email communications with industry representatives providing his thoughts about lobbying strategy and describing his efforts to communicate GMO science to the public; (4) his posts for GMOAnswers, an industry-sponsored website; and (5) travel expenses paid by industry, including expenses related to his trip to Monsanto headquarters. (Page 7)
Claimed no association with Monsanto while collaborating with Monsanto
Dr. Folta stated numerous times that he had no connection to Monsanto. Yet emails reported by The New York Times established that he was in frequent contact with Monsanto and their public relations allies to collaborate on activities to promote genetically engineered foods.
The emails indicate that Monsanto and allies set up media opportunities and lobbying activities for Dr. Folta and worked with him on messaging. In August 2014, Monsanto informed Dr. Folta that he would receive $25,000 to further his promotional activities.The email exchanges suggest a close collaboration:
In July 2014, a Monsanto executive praised Dr. Folta's grant proposal and asked four other Monsanto executives to provide feedback to improve it. He wrote, "This is a great 3rd-party approach to developing the advocacy that we're looking to develop."
In August 2014, Dr. Folta responded to the acceptance letter for his grant, "I'm grateful for this opportunity and promise a solid return on the investment."
Just weeks after the grant details were worked out, in August 2014, Dr. Folta asserted that he had "no formal connection to Monsanto." He has also claimed he received "no research or personal funding" from "Big Ag," had "no financial ties to any of the Big Ag companies that make transgenic crops, including Monsanto," and had "nothing to do with MON."
Emails show that Dr. Folta was also collaborating with Monsanto to defeat a state GMO labeling initiative. In October 2014, he wrote to a Monsanto PR executive, "I'm glad to sign on to whatever you like, or write whatever you like," in reference to an anti-labeling letter from scientists.
Bayer Funding
9/18 Update:Dr. Folta contracted with the law firm Clifford Chance representing Bayer AG to serve an a consultant in an arbitration hearing at a rate of $600 per hour for up to 120 hours. Those documentswere made public by Biofortified, Inc., a GMO promotion group that said it severed ties with Dr. Folta over his failure to fully disclose the potential conflict of interest.
11/17 Update: Dr. Folta received and disclosed receiving research funding from Bayer AG (which is in the process of acquiring Monsanto). According to a document obtainedby US Right to Know via FOIA, Bayer sent an award letter to Dr. Folta on May 23, 2017 for a grant for 50,000 Euros (approximately $58,000), for his proposal on "New Herbicide Chemistries Discovered in Functional Randomness."
Proposed hiding Monsanto money from public scrutiny
"My funding is all transparent," Dr. Folta wrote in his blog, but hisproposal to Monsanto to fund his GMO promotional activities concluded with a paragraph advising Monsanto how to donate the money to avoid public disclosure:
"If funded directly to the program as a SHARE contribution (essentially unrestricted funds) it is not subject to IDC and is not in a 'conflict-of-interest' account. In other words, SHARE contributions are not publicly noted. This eliminates the potential concern of the funding organization influencing the message."
Monsanto sent the $25,000 donation as an unrestricted grant for Dr. Folta.
Allowed an industry PR firm to ghostwrite for him, then denied it
An August 2015 story inInside Higher Ed described allegations that the agrichemical industry's PR firm, Ketchum, had provided Dr. Folta with "canned answers to questions about GMOs" for the agrichemical industry's public relationswebsite,GMO Answers.
Dr. Folta denied using the ghostwritten text, according to the story:
"Regarding the canned answers, he said he was 'pissed off' when he received them and never used them."
Dr. Folta later admitted using the ghostwritten text. The New York Times reported in September 2015:
"But Ketchum did more than provide questions (for GMO Answers). On several occasions, it also gave Dr. Folta draft answers, which he then used nearly verbatim, a step that he now says was a mistake."
In an October 2015 BuzzFeed story,Dr. Folta justified his decision to use Ketchum's ghostwritten text:
"They gave me extremely good answers that were spot on," Folta told me. "I'm inundated with work. Maybe it was lazy, but I don't know that it was lazy. When someone says, 'We've thought about this and here's what we have' — there are people who work in academia who have speechwriters who take the words of other people and present them as their own. That's OK."
Posted false information about pesticide industry funding to University of Florida
In October 2014, Dr. Folta posted inaccurate information about his own university's funding on GMO Answers. When asked, "How much have the biotech companies donated to the Horticultural Sciences Department, University of Florida?" Dr. Folta responded:
"There are zero 'donations.' At least during the last five years (all I checked), there are not even any grants or research agreements between the Horticultural Sciences Department at U.F. and any company selling biotech seeds …
During the last five years, at the whole university, there were a total of $21,000 in Monsanto grants to one faculty member in the panhandle who studies weeds. That's it for the whole university. Our records are all public, so anyone could have found this information."
In fact, biotech companies donated more than $12 million to the University of Florida in fiscal year 2013/2014 alone, according toUniversity of Florida Foundation documents posted by NYT. Monsanto was listed as a "Gold" donor that year, meaning the company had donated at least $1 million. Syngenta was a "Diamond" donor with "Cumulative Giving of $10 Million+" while BASF donated at least $1 million and Pioneer Hi-Bred gave at least $100,000.
University of Florida has a 'stance' on GMOs that is 'harmonious' with Monsanto, and Dr. Folta is in charge of promoting it
Leaders at the University of Florida believe it is the university's role to educate the masses about GMOs and they share a "stance" with Monsanto, according to an email obtained by the US Right to Know investigation.
David Clark, professor of horticultural biotechnology & genetics and director of the University of Florida Institute of Food and Agricultural Sciences Plant Innovation Program (UF/IFAS), wrote to Monsanto executive Robb Fraley on July 21, 2014:
"I thought your talk was excellent and very timely for our community, and it is harmonious with the stance we are taking on GMOs at the University of Florida. Also, thank you for taking a few minutes to chat with me afterward about how we should be educating the 80% of the consumer population who know very little about the technology.
After returning to Gainesville, I communicated with Drs. Kevin Folta and Jack Payne about our discussion. Kevin is our lead spokesperson at UF on the GMO topic and he has taken on the charge of doing just what we discussed – educating the masses. Jack is our Senior VP for IFAS, and just last week he released a video showing just where UF/IFAS stands on the GMO issue: http://www.floridatrend.com/article/17361/jack-payne-of-uf-on-gmos-and-climate-changeBoth of them are extremely passionate about this issue, and together they are ramping up their efforts to spread the good word."
In the video, Dr. Payne claims, "there is no science that agrees with these folks that are afraid of GMOs." In fact, many scientists and studies have raised concerns about GMOs.
Partnered with dishonest front groups on industry-funded "Biotech Literacy" spin events at UF and UC Davis
A June 2014 conference to promote GMOs called the "Biotech Literacy Project Boot Camp" was billed as a partnership between University of Florida, theGenetic Literacy Project and Academics Review, two front groups that work with Monsanto to promote agrichemical industry products and attack industry critics. Those two groups told scientists andjournalists — inaccurately — that the events were funded by a combination of government, academia and industry.
In 2015, journalist Brooke Borel reported in Popular Science:
"The conference in question was called the Biotech Literacy Project Boot Camp. I was invited to attend and to speak on some panels, although it wasn't initially clear what that would involve. I was offered a $2,000 honorarium, as well as expenses. I wrote back and asked who would provide the honorarium and was told it'd be a combination of funds from UC Davis, USDA, state money, and the Biotechnology Industry Organization (BIO)."
In a 2016 emailto scientists, Bruce Chassy of Academics Review claimed industry was "indirectly a sponsor" of the Biotech Literacy Project Boot Camps:
"The 3-day bootcamp is relatively expensive since we pay everyone's travel and lodging as well as honoraria. Participants received $250 and presenters as much as $2,500 (journalists aren't inexpensive) … I need to be clear up front that our support comes from BIO, USDA, state-USAID and some foundation money, so industry is indirectly a sponsor. We are 100% transparent about sponsorship."
However, those government and academic sources denied giving any funds to the Biotech Literacy Project Boot Camps, according to reporting by Paul Thacker in The Progressive. Thacker wrote, "the only traceable money source is the biotech industry."
Both Academics Review and Genetic Literacy Project have a history of misleading the public about their funding and activities to defend the agrichemical industry.
Academics Review has claimed many times to be an independent group, yet emails obtained by US Right to Know revealed that Academics Review was set up as a front group with industry funds and with the help of Monsanto.
The "financial transparency" note on the Genetic Literacy Project website is inaccurate, changes often and has at times contradicted itself. GLP director Jon Entine has many close ties to Monsanto.
Dr. Folta also organized what he called a"biotechnology literacy and communications day" to promote GMOs at the University of Florida in 2015. Dr. Folta described his plans in theproposal he sent to Monsantoseeking funding for the events. Speakers included UF professors, Monsanto employee Vance Crowe, representatives of two agrichemical industry-aligned spin groups (theCenter for Food Integrityand Biofortified), and Tamar Haspel, a food columnist for the Washington Post. In emails he sent to Haspel, Dr. Folta said the audience of the "biotechnology literacy" event would be "scientists, physicians and other professionals that need to learn how to talk to the public."
Contributor to Genetic Literacy Project
As of 2021, Dr. Folta is listed as a contributor on the website of Genetic Literacy Project, a group with a long history of deceiving the public about its pesticide industry ties.
Genetic Literacy Projectplayed a key role in attacking and trying to discredit the cancer scientists who served on the World Health Organization's International Agency for Research on Cancer (IARC) panel that reviewed glyphosate. In March 2015, the panel classified glyphosate as a probable human carcinogen.Monsanto PR documentsdetail how the company planned to engage "industry partners," including the Genetic Literacy Project, in helping to orchestrate "outcry" against IARC in order to protect its glyphosate-based Roundup products.
Described the food movement as a "terrorist faction"
Dr. Folta wrote the forward for a 2015 book called "Fear Babe: Shattering Vani Hari's Glass House." The forward describes the food movement as a terrorist faction, which Folta names "Al Quesadilla":
"Al Quesadilla is a moniker ascribed to a modern day elite and well financed terrorist faction sworn to use fear to force political change around food. Al Quesadilla has a central mission – to impose their beliefs about food and food production on the broader society. Their beliefs are religious in nature. They are deeply heartfelt and internalized. Their beliefs are grounded in a misinterpretation of nature, a mistrust of corporate culture and a skepticism of modern science …
Al Quesadilla is an agile and sneaky terrorist group. Like all terrorists, they achieve their objectives through the implementation of fear and coercion. They plan careful strikes on vulnerable targets – American consumers…"
The book, published by Senapath Press, was authored by Mark Alsip, a blogger for Bad Science Debunked, Marc Draco, a "veteran member" of the Banned by Food Babe Facebook page, and Kavin Senapathy, a Forbes contributor who had several of her articles deleted by Forbes.
The book promotes GMOs, claims MSG and aspartame are "harmless" and purports to describe "the facts behind those pesticide scares."
Pesticide propaganda
Dr. Folta dismisses concerns about pesticide exposure with propaganda claims, not science. For example, he made and failed to correct his guest on many dubious statements about the safety of pesticides in this 2015 podcast interview with Yvette d'Entremont, the "SciBabe." Folta claimed:
If someone is concerned about pesticide exposures, "ask them if they have symptoms of pesticide poisoning. Unless they have symptoms of pesticide poisoning, there's probably nothing to worry about."
"Your risk from any kind of, especially, pesticide exposure from consumption is probably somewhere between 10,000 and a million times lower than a car accident."
Deceptive communication tactics
Another example of misleading communication associated with Dr. Folta is documented in a 2015BuzzFeed storyby Brooke Borel. The story recounts Borel's discovery that Dr. Folta used a false identity to interview scientists and even himself on a podcast called the "The Vern Blazek Science Power Hour."
For further reading:
New York Times, "Food Industry Enlisted Academics in GMO Lobbying War, Emails Show," by Eric Lipton (9/6/2015)
Emails posted by The New York Times
The Progressive, "Flacking for GMOs: How the Biotech Industry Cultivates Positive Media," by Paul Thacker (7/21/2017)
Huffington Post, "Keith Kloor's Enduring Love Affair with GMOs," by Paul Thacker (7/19/2017)
Global News, "Documents Reveal Canadian Teenager Target of GMO Lobby," by Allison Vuchnich (12/22/2015)
Nature Biotechnology, "Standing up for Transparency," by Stacy Malkan (1/2016)
Mother Jones, "These Emails Show Monsanto Leaning on Professors to Fight the GMO War," by Tom Philpott (10/2/2015)
BuzzFeed, "Seed Money: Confessions of a GMO Defender," by Brooke Borel (10/19/2015)
USRTK Short Report,"Journalists Failed to Disclose Sources' Funding from Monsanto"
Independent Science News,"The Puppetmasters of Academia (or What the NYT Left Out)," by Jonathan Latham (9/8/2015)
USRTK letter to Dr. Folta about our FOIA requests